Welcome to Best Western Ramkota Hotel
We thank you for letting us serve as your hosts. Our staff can help you with every aspect of your stay with us and with your visit to our area. If you are in need of assistance, please contact our front desk by dialing 0 from your guest room phone or (605) 343-8550. For emergencies, please contact 911.
Check In & Check Out Times
Guests can check-in after 4pm. Please check-out by 11am. If you need a later checkout time, please contact the Front Desk.

Dining: Minervas Restaurant & Bar / Dial 3001 Located off the Front Lobby. Hours of operation are: 6:30am to 10:00pm, Monday - Saturday and 6:30am to 9:00pm on Sunday.
Dry Cleaning & Laundry: Same-Day service available Monday through Friday (not available on the weekends or holidays). Drop off at Front Desk before 8:00am and returned back by 5:00pm
Fitness Center: Located on 2nd floor of Building B (see Locator Map). Must be 17 years old.
Guest Laundry: Coin operated laundromat located on the 2nd floor of Buildings A & C
Ice/Vending Machines: Our vending areas are located at the end of each building's
1st & 2nd floor
Pets: We allow small, well-behaved pets. Pets cannot be left unattended in guest room. Exercise areas and complimentary pick-up bags are located in various locations around exterior of Hotel. Guests are expected to pick up after their pet! $20 Pet Fee.

Room Service: Dial 3001. Consult our Room Service Menu for more information.
Safety Deposit Boxes: We provide safety deposit boxes free of charge (please do
not leave valuables in your room) at the Front Desk.
Television: See list of channels in this directory - "Pay Per View" available. To reach main channels please turn on the TV, press the channel "up" button", slowly advance four times.

Please Contact The Front Desk To...
Request a rollaway bed or crib
Request housekeeping or wakeup services
Request toiletries
Find out shuttle information
Learn hours for our pool and dining services
Please dial 0 on your room phone or call us on your cell phone.
(605) 343-8550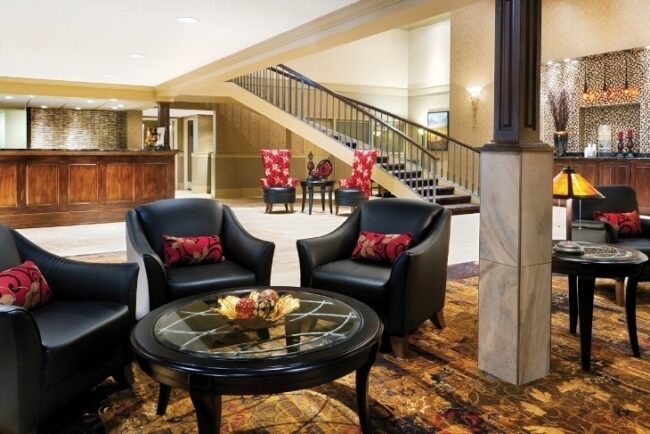 High Speed Internet
Internet* is available throughout the hotel and convention area. If you are having trouble connecting to the internet; technical support is available 24/7 (free of charge): 888-897- 3082.
There is also a business center available for guests use.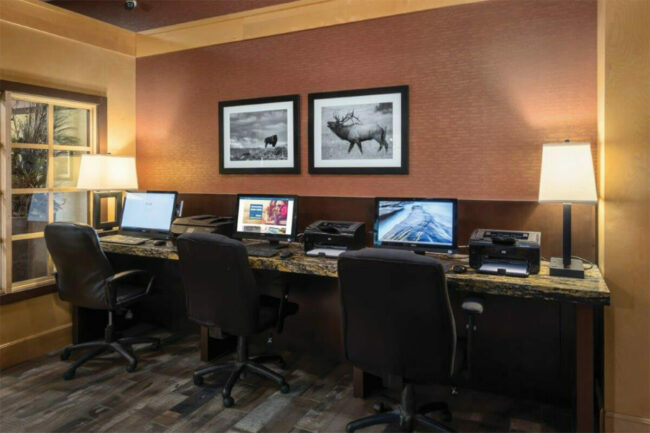 Swimming Pool/Waterpark
Swimming Pool Hours
Open daily 8:00am - 10:00pm.
Waterpark Hours**
Summer (June-July-August): 8:00am - 9:00pm
Winter(Sept - May): Mon - Thurs: 4:00pm - 8:00pm, Sat: 4:00pm - 10:00pm Sun: 8:00am - 8:00pm.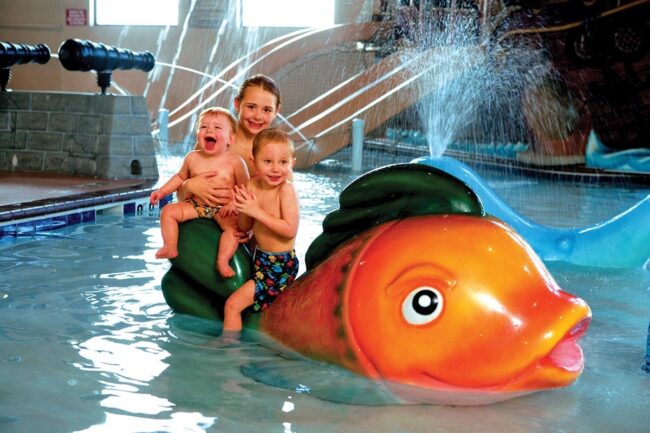 Airport and Transportation
We provide complimentary shuttle service to and from the Rapid City airport. Please contact the front desk by dialing 0 on your guest room phone for more information about this service.
Warning
Carbon monoxide is a colorless, odorless. poisonous gas, and exposure can be fatal. Your room is equipped with a carbon monoxide detector
Symptoms1 of carbon monoxide exposure may include:
Headache
Fatigue
Weakness
Nausea
Shortness of breath
Confusion
Vomiting
Blurred Vision
Dizziness
Loss of muscle coordination
Collapse
Loss of consciousness
What to do if a carbon monoxide alarm is sounding or if you experience any symptoms of carbon monoxide exposure:
Never ignore a carbon monoxide alarm that is sounding.
Immediately move outside to fresh air.
Advise the hotel front desk.
Call 911, emergency services, or the fire department.
Do a head count to check that all people in your party are accounted for.
Do not re-enter the premises until the emergency service responders have given you permission.2
1 Source of symptom list: Consumer Product Safety Commission & Mayo Clinic.
2 Source of recommended responses to sounding alarm or symptoms: Consumer Product Safety Commission.


The safety and security of you and your personal property are of the utmost concern to us. We urge you to take advantage of the following suggestions
For Your Safety
Lock and dead bolt your front door. If a fire is detected by you, go to nearest alarm box and pull fire alarm and please exit calmly.
Do's
Establish a "meeting area" outside the hotel with your group in case of an emergency.
Check into a hotel or enter a meeting room, locate and count the doors between your room and the closest exit. • Put your room key in the same place whenever you return to your room.
Check windows and vents in your room to see how they work.
If there's a fire, feel the door with the palm of your hand before opening it.
Head for the nearest exit if the hall is passable. • Stay close to the floor if the smoke is heavy. • Remain in your room if the exit path is blocked. • Bail water on hot doors and walls.
Find the switch on your air conditioner and learn to shut it off in the event of a fire.
Stuff wet towels and sheets in cracks around doors. • Tie a wet towel around your nose and mouth.
Dont's
Don't open your door if it's very hot.
Don't break a window if you can open it instead. • Don't leave your door open as you exit.
Don't try to run through heavy smoke.
Double Locks
For additional security, while in your room, utilize the deadbolt lock on your door upon entering.
The deadbolt will prevent the door being open by a regular room key.
When leaving your room, assure that your door is closed tightly.
Admittance
Do not admit persons to your room without first making identification.
A "one way viewer" is provided in your door for your convenience.
If there is any doubt about the person's true identity, please contact the Front Desk.
Room Entrance with Electronic Card Lock
As advised when you check in, your door entrance is equipped with a keyless security system for your room.
The access authorization is recoded with each new guest. When you check-out the access authorization is deleted.
Should it be necessary, the system memory can tell the hotel who entered the room and when.
Tornado
A Tornado Watch is when conditions are right for a possible tornado to form.
A Tornado Warning is when a tornado has been spotted in the area.
Sirens will sound to indicate that all persons should take cover.
Please move to the office for further instructions.
You are in Pennington County.
Property Map
*By using our Internet services, you hereby expressly acknowledge and agree that there are significant security, privacy and confidentiality risks inherent in accessing or transmitting information through the Internet, whether the connection is facilitated through wired or wireless technology. Security issues include, without limitation, interception of transmissions, loss of data, and the introduction of viruses and other programs that can corrupt or damage your computer. Accordingly you agree that neither Best Western® Hotel nor Best Western® International are liable for any interception of transmissions, computer worms, viruses, loss of data, file corruption, hacking or damage to your computer or others that result from transmission or download of information or materials through the internet service provided.
** (Water park slide hours are subject to change, please check with Front Desk). Please do not bring your room towels in pool areas. Winter water park slide hours may vary, check with Front Desk. NO LIFEGUARD ON DUTY! NO DIVING!!